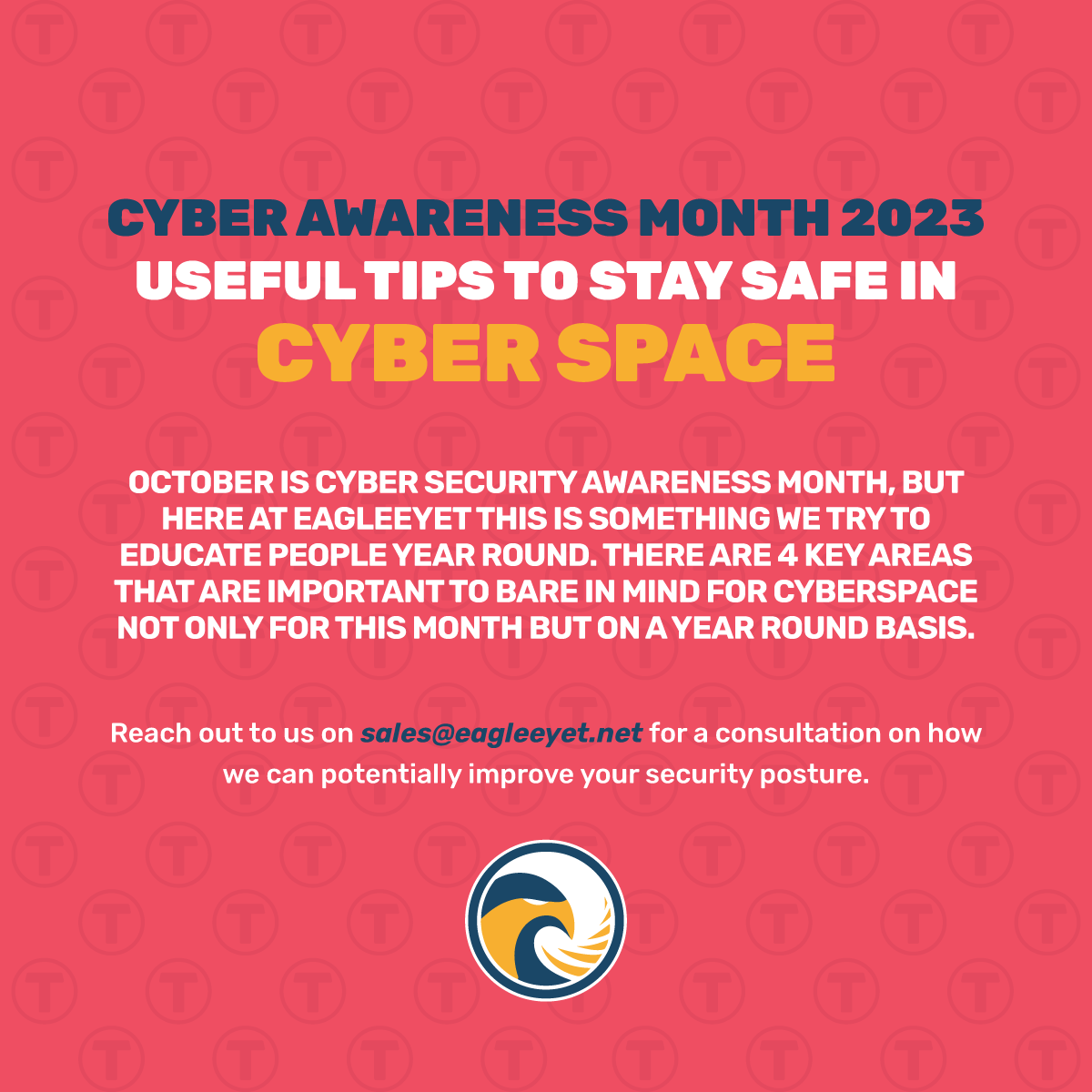 October is Cyber Security Awareness Month, but here at EagleEyeT this is something we try to educate people year round.
In this post we will give you some tips to keep you safe in cyber space.
There are 4 key areas that are important to bare in mind for cyberspace not only for this month but on a year round basis.
1) Using A Password Manager & Strong Passwords
A popular way for cyber criminals to gain unauthorized access to your accounts is through stealing of passwords.
Having a strong and complex password makes it harder for hackers to figure it out .
In this short video you will be shown how to create a strong and secure password.
It is highly recommended that one use a password manager to not only store these complex secure passwords, but to also generate and even fill in the credentials on a website for you. Use of such software allows you to ensure you use different passwords for each of your accounts.
2) Enabling Multi Factor Authentication On All Accounts
Multifactor authentication, also known as MFA for short, is a must have on any and all accounts you have.
It adds an additional layer of security in the form of additional proof of ones identity besides the password before access is granted.
The additional proof of identity includes the following:
One Time Passcode
Facial Recognition
Fingerprint
The above 3 types of additional identification are much harder for cyber criminals to duplicate. As a result this stops unauthorized individuals from gaining access to ones systems and their sensitive and personal data stored in them.
Click here to read an article which detailed how malicious threat actors gained unauthorized access to a companies security administration system and disabled all the security settings, which MFA could have potentially prevented.
3) The Ability To Recognize & Report Any Phishing Attacks
Earlier in 2023 Sophos commissioned an independent survey. This survey asked 3,000 IT Professionals about their experiences in the Cyber Security Front lines.
In this survey it was revealed that phishing emails are the number 2 cyber security concern in 2023, and accounts for 30% of the ransomware attacks.
The purpose of a phishing email is to trick the user into giving up sensitive information which in turn will be used by the attackers.
If you are not sure if you have been sent a phishing email, it is important that it gets reported to your IT team or email provider immediately. This will help train the spam filters and keep you as well as others safe.
Click here to read an article about phishing which outlines the 4 steps that attackers use when creating the phishing emails and understanding such steps will show you how to spot them.
4) Keeping Your Software Updated
In 2022, cyber incidents investigated by Sophos showed that the exploitation of unpatched vulnerabilities was the leading cause.
It is important that one stays on top of keeping their software updated. The reason for this is that vulnerabilities will get patched making it harder for malicious threat actors to exploit.
Besides the patching of vulnerabilities, new features and enhancements also get rolled out as well.
Vulnerabilities which are exploited such as the MOVEit Transfer vulnerabilities which were discovered earlier in 2023, which is a system that makes it easy to store and share files,  can have severe consequences for millions who use it.
Here at EagleEyeT we take Cyber Security seriously. We hope this post has been insightful to help you stay safe in Cyber Space.
Cyber Security Awareness is not just a once a year thing, but something that is important to keep in mind year round.
If you have any questions reach out to us on [email protected] for any of your cyber security needs.
#BeCyberSmart